Queen's Jubilee hope for tug restoration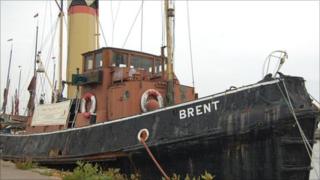 A World War II tug boat is being restored with the aim of taking part in the Queen's Jubilee celebrations.
The 70ft (21m) steam tug Brent is the sole surviving steam vessel of the Port of London Authority's fleet.
A preservation trust has been set up by its Maldon owner in order to make the vessel seaworthy in time for the Thames Diamond Jubilee Pageant on 3 June 2012.
"It would be a wonderful thing to realise that dream," said its owner of more than 40 years, Janet Hall.
"She towed the firework barge for the Coronation and it would be such an appropriate thing for her to go on the River Thames as part of the Jubilee celebrations," she added.
The vessel was also used by Mrs Hall and her late husband Ron in the Silver Jubilee celebrations in 1977.
Next year's 1,000-strong flotilla will be one of the main events marking the Queen's 60-year reign.
Mrs Hall said: "One of the trustees mentioned this pageant was on and I e-mailed back saying: 'It would be a dream to see her on the Thames again.
"They said: 'It doesn't have to be a dream, we can make it a possibility.'"
'Unknown entity'
The Brent was bought by Mrs Hall and her husband from a breakers yard in the 1970s and then restored.
Since the 1990s, health issues meant they were unable to continue with renovation work.
She explained the latest preservation work would cost "tens of thousands of pounds".
"It was very difficult for me to part with her so I thought the best way for her preservation was the formation of a trust," she said.
"It is our plan to renovate her and put her back to the style she would have been when she was working in London."
The extent of the work needed to make the boat seaworthy is largely dependent on the engine.
"The boiler is an unknown entity and we need to have a survey to see what needs to be done and to have the boiler re-tubed, which is not an impossible task," said Mrs Hall.