Tilbury Docks celebrates its 125th anniversary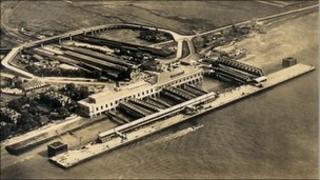 The 125th anniversary of the opening of Tilbury Docks is being marked.
Forth Ports PLC, which runs the Port of Tilbury, is holding an open day on Sunday, the day of the anniversary.
The Essex port opened on 17 April 1886 and today covers an area of 850 acres (3.4 sq km), has 34 operational berths and 7.5km (4.6 miles) of quay.
As well as spawning the town of Tilbury and being a gateway for millions of passengers, it has also been used as a set location for several feature films.
The cargo and passenger port was built by the East and West Indies Dock Company in response to the overcrowded docklands in London.
By 1947 an estimated three million people were travellng through its passenger terminal yearly.
Jonathan Catton, heritage officer at Thurrock council, explained why it became a significant gateway to the country.
"It was easier to get them off at Tilbury because there was the London-Tilbury-Southend railway line going right into the dock system," he said.
Among those arriving in Britain for the first time were Mahatma Gandhi in 1888 and a young Cliff Richard 60 years later.
"This would have been the first time they'd seen the country, and that's true for millions of people," said Mr Catton.
"It was either last time they saw the country, or the first time."
It was also the scene of the arrival of the MV Empire Windrush liner in 1948, carrying 492 passengers from Jamaica looking to start a new life in Britain.
"It's the iconic start of black history in this country," said Mr Catton.
"It's the arrival and departure stories that are just fascinating."
The open day, which will include tours around the site and talks about its history, will be held between 1000 BST and 1600 BST on Sunday.