London Southend Airport's new control tower operational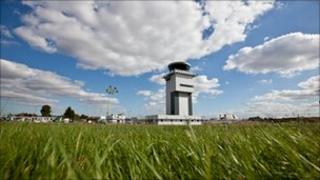 A newly-built control tower at London Southend Airport is now fully operational.
The original tower was built in the 1960s and was only intended to be a temporary structure.
Its 105ft (32m) high replacement has been fitted with the latest technology and provides air traffic controllers with improved views of the runway.
The new tower cost £3m and is part of the airport's plan to boost passenger numbers to two million a year by 2020.
More destinations
The airport said all of its current construction projects were on target to meet their completion dates.
By extending its runway, airport bosses hope to attract airlines operating passenger services to a wider range of business and holiday destinations.
Aer Arann has just started two daily return flights between Southend and Galway and Waterford in Ireland.
The airport's managing director, Alastair Welch, said: "The completion of the new control tower is another successful step forward in Stobart Air's investment and development programme to enhance the airport - along with the new terminal, train station and forthcoming hotel.
"It will not be long now before we are providing a whole range of opportunities for local people to fly to a range of holiday and business destinations across Europe."