Colchester to bid for Diamond Jubilee city status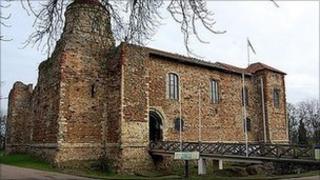 Colchester has become the third Essex town to join the race to be given city status as part of the Queen's Diamond Jubilee celebrations.
One UK town will be upgraded in 2012, with Southend and Chelmsford already having indicated they are to apply.
Community group Destination Colchester will run the north Essex town's bid, which has been endorsed by Colchester Borough Council.
Authorities have until 27 May 2011 to submit their entries.
Colchester is regarded as Britain's oldest recorded town and was a city in Roman times.
'Dynamic place'
All three Essex towns have all been unsuccessful with previous bids to get city status.
Wendy Bailey, the chair of Destination Colchester, said: "It is about time we had a city in Essex and I wish good luck to Southend and Chelmsford.
"There are so many opportunities for investment and improve job prospects. To give that boost to an economy in East Anglia would be brilliant."
Mrs Bailey said the bid was being put together entirely by volunteers on behalf of the council and would not use any public money.
She was confident a strong case could be made for the town.
"We've got the jewels in our crown of the beautiful countryside - we're in Constable Country," she said.
"We've also been home to the garrison for 2,000 years and have a wonderful modern garrison headquarters.
"We've got award-winning theatres, we've got Firstsite [an arts facility], which is going to be a fantastic world-beating building which will open in September.
"It's a dynamic place to live and we want to attract more inward investment to Colchester and we feel that becoming a city would actually help us achieve that."
Several towns around the UK have already expressed their interest to apply to become a city.
They include Middlesborough, Gateshead, St Austell, Wrexham, Goole, Stockport, Blackpool and Reading.
The successful nomination will be announced in early 2012.