Stansted Airport marks 20th anniversary of terminal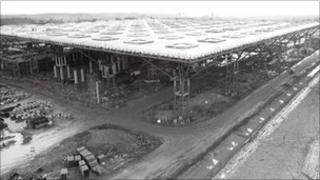 Staff at Stansted Airport have been celebrating the 20th anniversary of the royal opening of its terminal building.
The Lord Foster-designed terminal was opened by the Queen on 15 March 1991, four days before the first passenger flight took off for Glasgow.
Since then, 250 million passengers have passed through the 500,000 sq ft (46,450 sq m) glass-clad building.
Managing director Nick Barton said the design had created "a new era of innovative airport construction".
"The terminal is the centrepiece of the modern Stansted, and we are all extremely proud that the Lord Foster building is still as good today as it was when Her Majesty the Queen opened it 20 years ago," he added.
Before the opening of the building, the airport had operated on a much smaller scale.
The building, which has won many awards, has influenced several airport designs over the past two decades.
'Radical alternatives'
Spencer de Grey, joint head of design at Foster + Partners, said the building represented an important milestone in the company's history.
"It was a great moment in my life. A lot of hard work went into the design of the building and to see it all finished with the Queen there was a wonderful occasion," he said.
"Our brief from Sir Norman Payne, who was the chairman of BAA, was to radically rethink terminal design," he said.
"The previous designs at both Heathrow and Gatwick were really quite expensive and in some instances did not work particularly efficiently.
"So he wanted us to look at radical alternatives and I think we literally turned upside down the traditional terminal.
"We put all the things that make the building work underground in the big undercroft beneath the main passenger floor.
"That then allowed us to create a lightweight roof that just kept the water out and let natural light in."
'Symbolic moving'
Of the 1,300 staff currently employed by BAA, more than 140 have been at the airport since the terminal building opened.
Trevor Waldock, who is head of airside operations, was a security officer in 1991.
"The memory for me was probably more the night before," he said.
"There was a symbolic moving from the old to the new terminal.
"I was part of the procession that came across and literally all of the staff and equipment based at the old terminal moved across overnight, across the runway."
Denise Parker, who works as PA to the current managing director, recalled the Royal visit fondly.
"We were asked to backfill any open spaces at the lunch which was held in the baggage hall," she said.
"I ended up sitting next-door but one table to the Queen, which was a bit bizarre, but was good."