Airline bomb hoaxer faces jail term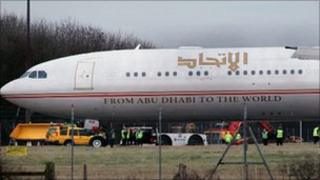 A man has been warned he faces jail after admitting a hoax that triggered a bomb scare on an airliner heading to Britain from the Middle East.
James Glen, 38, originally from Ayr, was told by a judge at Chelmsford Crown Court that he could expect a "substantial" prison sentence.
The Etihad Airways flight bound for Heathrow was redirected to Stansted airport and escorted by two RAF jets.
The judge adjourned sentencing until 8 April and remanded Glen in custody.
The flight, which had 163 passengers and 15 crew on board, was delayed for four hours.
Glen had been living in Australia for 18 years and was returning to the UK to take up a job working on rally cars in Chard, Somerset.
At his trial, the court heard he had been anxious about flying and had consumed alcohol.