Clacton beach huts damaged by fire to be rebuilt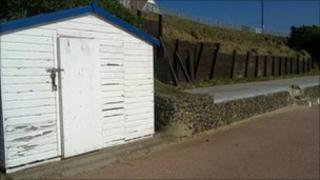 A row of beach huts at an Essex seaside resort that were damaged by fire are to be rebuilt in a £100,000 project.
The 11 huts on Clacton seafront were badly damaged by a fire which started in one of the chalets in May 2010.
Reconstruction will begin this month and is expected to be completed by May.
The distinctive blue and white huts, which are owned and leased out by Tendring District Council, were built in the 1930s.
The hut in which the fire started was completely burnt out, while the other 10 were severely damaged by smoke.
All 11 have been knocked down and will now be rebuilt.
The cabinet member for leisure at Tendring District Council, Conservative councillor Stephen Mayzes, told BBC Essex he was pleased the project could soon begin.
"[They are] part of Clacton's history, are hugely important to us and we want to make sure they are back to their former glory," he said.
He explained the funding for the repairs, which is expected to cost between £80,000 and £100,000, would not be coming from the council's budget.
"This will be claimed back through the council's insurers who have deemed the fire inconclusive, so we've got this money to spend on the beach huts," he said.
"So not a single penny will be spent from tax-payers' money."