Essex dinner lady Carol Hill wins £350 in compensation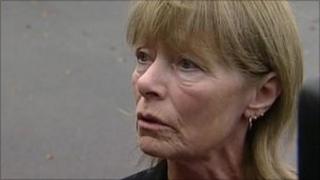 An Essex dinner lady, who was sacked after telling parents their daughter had been bullied, has won £350 in compensation.
Carol Hill, 61, was suspended from Great Tey Primary School after telling the seven-year-old girl's parents their daughter had been tied to a fence.
She was later sacked for speaking to the media in what the tribunal decided was "gross misconduct".
It ruled her sacking was procedurally unfair, however, and awarded her £350.
Essex County Council said the figure was made up of "back pay" and compensation for "wrongful dismissal".
Mrs Hill was sacked from her £125-a-month role in September 2009.
School head Deborah Crabb told the tribunal about the incident and said four boys involved had explained they were playing a game called "prisoners and guards". She said the incident was not bullying but an "inappropriate game" which went too far.
She told the panel Mrs Hill was sacked for committing the "offence" of "going to the press".
Reinstatement claim abandoned
Mrs Hill's decision to give details of the incident to the child's parents was a breach of confidentiality which would have earned her a "final warning", said Mrs Crabb.
But by "talking" to a journalist, Mrs Hill had brought the school into disrepute and she had to be dismissed, the head teacher said.
Mrs Hill had argued she was sacked because the school governors were "embarrassed by the public outcry".
She said she was not given a correct notice period and her rights to freedom of expression under European law were infringed.
The tribunal members ruled in January that Mrs Hill's actions "amounted to gross misconduct" and upheld the school's "decision to summarily dismiss".
But they said the way the school had gone about dismissing Mrs Hill had been "procedurally flawed".
Mrs Hill had said she wanted her job back but her lawyer, Claire Darwin, told the panel on Wednesday she had abandoned a claim for reinstatement.
Mrs Hill said: "I am very relieved that the case is over.
"It has taken a heavy toll on my health.
"I have always had the welfare of the children at heart," she added.