Derelict houseboat washed up on Southend beach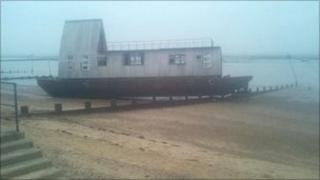 A derelict metal houseboat has been washed up on a beach in Essex.
The 100ft (30m) vessel broke free from its mooring and washed up on the shore along Western Esplanade, Southend-on-Sea, early on Tuesday.
The bulk of the boat was grounded on the beach, with its stern astride a groyne, which had been damaged.
Brian Allen, who owns the houseboat's mooring at a nearby estuary, has towed the vessel from the beach to Leigh-on-Sea.
He said he was preparing to tow the vessel to a tug mooring in London.
It is believed the boat was featured in an episode of the Channel 4 programme, Grand Designs.