Man admits aircraft bomb hoax after plane diverted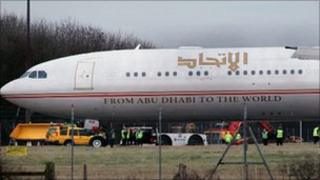 A man has pleaded guilty to making a bomb hoax following an incident on board an aircraft which was diverted to Stansted Airport.
The Etihad Airways plane from Abu Dhabi was due to land at Heathrow on Monday.
James Glen, 37, appeared at Chelmsford Magistrates' Court in Essex and was remanded in custody until 10 March.
The court heard he was drunk when he told a flight attendant that a fellow passenger had a gun and had "threatened to blow himself up".
Two RAF Typhoon jets were scrambled to accompany the aircraft before it landed.
The flight, which had 163 passengers and 15 crew on board, was delayed for four hours.
Flying fears
The court was told the diversion had a considerable financial cost, including charges incurred from the RAF escort, additional fuel and the cost to other passengers who missed connecting flights from Heathrow.
Vivienne Perry, prosecuting, said: "When he was interviewed, he admitted he made up the whole story and said he does not know why he did."
Glen, who was born in Ayr, South Ayrshire, Scotland, had been living in Australia for 18 years and was returning to the UK to take up a job working on rally cars in Chard, Somerset.
Paul Cammiss, defending, said Glen had been anxious about flying as he had not been in a plane since he moved to Australia at the age of 19.
Mr Cammiss said Glen had acted in a manner "alien to him" due to the small amount of alcohol he had consumed which affected him more than usual.
Glen was remanded in custody and is due to appear before the same court on 10 March when he is expected to be sentenced.