Essex Police horse badly injured by dog in Chelmsford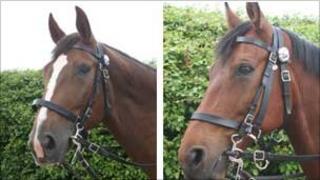 Two police horses have been injured, one seriously, by a dog which chased and bit them in Essex.
Bella and Biscuit are expected to be off work for at least a week following the attack while they were on patrol in Chelmsford on Wednesday afternoon.
Biscuit has a deep cut to a foreleg and has been stitched from elbow to hoof, while Bella has had stitches to two shoulder wounds.
A woman, 34, was has been arrested and bailed in connection with the incident.
She was questioned on suspicion of having a dog dangerously out of control in a public place, and a dog has been seized, police said.
Pc Frank Pallet, who was riding Bella, and Biscuit's rider, Pc Sarah Fiske, were thrown from their horses but were uninjured.
Both horses have puncture wounds over their bodies.
Essex Police believe the dog might have been loose in the Broomfield area earlier in the day.
Anyone who came into contact with the dog or witnessed the incident is asked to call police.