Boy, four, unearths 16th Century gold pendant in Essex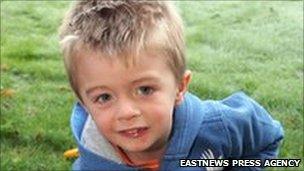 A four-year-old boy from Essex using a metal detector with his father unearthed a gold pendant believed to date from the 16th Century.
James Hyatt, of Billericay, found the reliquary while searching in a field in Hockley in May last year, a treasure trove inquest in Essex heard.
It is believed to be worth up to £2.5m, a sum the Hyatt family would share with the landowner if the pendant is sold.
His father, Jason, said: "We dug down... and got a flash of gold."
He added: "All of a sudden we got a buzz from the metal detector, quite a strong buzz.
"We dug six to eight inches down and lo and behold, we got a flash of gold.
"I moved the earth around and brought it to the surface and there it was."
The locket was declared treasure trove at the inquest.
The British Museum examined the locket, which it said weighs a third of an ounce (8.68g) and has a gold content of up to 73%.
It said the image engraved upon it is probably that of the Virgin Mary, and the speckles on the cross she is supporting could signify blood.
The back panel no longer slides out but would have revealed a cavity, probably designed to contain a relic, the museum said.
It is decorated with the five wounds of Christ.
"Devotion to the blood and wounds of Christ was one of the hallmarks of late medieval piety," a letter from the museum to the coroner stated.
As in all treasure trove cases, any proceeds from a sale is split between the landowner and the person or people who discovered it.