Essex zoo bears saved from 'certain death' in Cambodia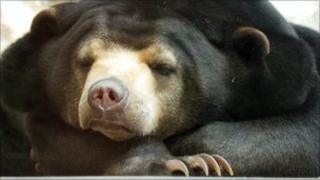 A pair of sun bears rescued in Cambodia and brought to Essex have become the only animals of their kind at a zoo in England.
Colchester Zoo said the animals were saved from "certain death" in Cambodia and brought to the UK by the Rare Species Conservation Centre (RSCC).
Srey-Ya was found as a motherless cub suffering from pneumonia and Jo-Jo was being kept to amuse bar customers.
Both had earlier been confiscated from poachers, the zoo said.
Srey-Ya, which means girl, weighed just 10oz (300g) when she was discovered in the village of Ya Dow in central Cambodia.
She was so young she was still not fully covered in fur and had not yet opened her eyes, the zoo said.
World's smallest bear
Jo-Jo had been confiscated as a six-month-old by government anti-poaching patrols in Ratanakiri province.
He was kept as a pet in a local bar but was brought to the RSCC in Kent in 2007 to live with Sre-Ya.
Together they are believed to be the first sun bears to be housed in the UK for more than 30 years and are now the only sun bears in England.
Also known as honey bears, they are the world's smallest species of bear and reach an average height of 4ft (1.2m).
They are classified as vulnerable in the wild.
The bears are now settling into a temporary enclosure while the zoo begins a fundraising campaign to build a new £375,000 purpose-built home for them.
Zoological director Anthony Tropeano said: "Both bears have had such a traumatic start to their lives, I'm delighted that Colchester Zoo has been able to offer them a permanent home.
"Srey-Ya and Jo-Jo had a good journey from Kent and we're pleased how well they are already settling into their enclosure."