'Love messages' harassed BBC presenter Fiona Bruce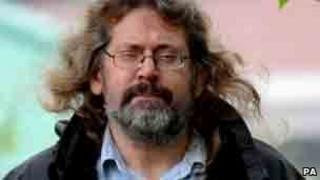 A viewer who admitted sending flowers and cards that upset a BBC newsreader will be sentenced in October.
Fiona Bruce said cards signed "your kingfisher and loving husband" harassed her, Basildon Crown Court heard.
Australian-born Peter Oakey, 51, of Brentwood, Essex, sent more than 20 cards referring to the 46-year-old presenter as "my beautiful firebird".
Judge John Lodge was considering an order under mental health laws and adjourned the case until 7 October.
Similar conduct
Mr Oakey also wrote cards saying "I love you Fiona" in breach of a restraining order imposed in December 2008.
He had admitted harassment at an earlier hearing and the court heard he had a history of "conduct of a similar nature" dating back to 2002.
He had previously appeared in court after writing "offensive" messages to a number of shops, including Boots and Sainsbury's, a church, a hospital and a doctor's surgery, the judge was told.
The presenter had made a statement saying Mr Oakey's behaviour left her "upset", "disturbed" and "distressed", the court heard.