Samaritans issue warning over 'death pact forums'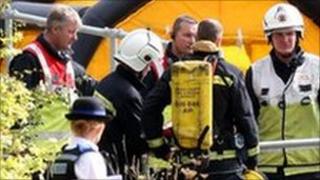 A charity has warned of the dangers of internet forums after police said they believed two strangers found dead had formed a suicide pact online.
Samaritans said it was working with social networking sites to try to ensure suicidal people get access to help if they searched the internet.
Stephen Lumb, 35, of West Yorkshire, and Joanne Lee, 34, of Essex were found in a parked car in Braintree on Monday.
Police said it is believed they met on a forum for people considering suicide.
"The internet can be a place to find friendship and like-minded people to chat to, but sometimes it can also be harmful," said Catherine Johnstone, Samaritans' chief executive.
"A distressed person can meet another person online and, instead of finding help and support, they end up encouraging each other to do something they might not have done alone."
Offers of support
She added: "What we are doing is making sure the Samaritans' website is one of the search engine results when a person looks for suicide-related information online, so that the option is there for them to seek help.
"We are also working with social networking sites, such as Facebook, to help them and their users offer support to people in distress."
Mrs Johnstone added: "It is illegal to encourage or assist people to take their own lives - be it on the internet or in any other space - but it is unclear how this recently-amended legislation will be applied and policed."
Mr Lumb, of Sowerby Bridge and Ms Lee, of Great Notley, Essex, are believed to have met after she appeared to suggest on an internet forum that she wanted a partner for a suicide pact.
Truck driver Mr Lumb is believed to have driven 200 miles to Braintree to meet Ms Lee.
Ms Lee's mother, Jill Chappell, said: "We didn't know what she was doing. If we had we would have tried to stop her."
'Found friends online'
Her family added they were "devastated" to discover that she had "delved into the darker side of the internet".
Ms Lee had suffered from low self-esteem, depression and had an eating disorder, they said.
She had struggled with "normal social interaction" and found friends through social networking sites.
Mr Lumb's father Melvyn, who shared a home with his son, said of the deaths: "He didn't seem any different, he had the same mannerisms. I didn't know her, I knew nothing about her.
"He liked a beer and football, normal lad. It is a complete shock, I never expected anything like this. It is the last thing I would have expected.
"I loved him. I will miss him every day of my life. I will miss him every minute of every day. I thought the world of him. I couldn't have had a better son."
Police said post-mortem examinations are being carried out.