Oil clean-up from Southend and Canvey beaches begins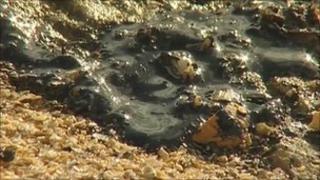 An operation has begun to clear up an oil slick that washed ashore in Essex.
About 500 litres of "heavy duty oil" leaked from a ship into the Thames Estuary on Sunday evening.
The oil coated breakwaters on Canvey Island and affected a four mile stretch of beach between the Southend Sea Life Centre and Shoeburyness on Monday.
The Port of London Authority is investigating the oil spill while Castle Point and Southend Borough Councils are involved in the clean-up.
Notices have been put up at the entrances to the beaches and foreshore warning residents and visitors about the oil pollution and asking them to keep off the beach.
A spokesman for the Sea Life Centre on Southend's seafront said the tanks in the aquarium were normally filled with water pumped directly from the Thames Estuary, but the water had been dumped to protect the wildlife at the centre.
Sea Life curator David Knapp said: "We have now taken all the appropriate steps now to ensure the safety of all the inhabitants of the Sea Life Adventure.
"The bigger concern, of course, is the marine fauna, particularly those animals which float at the surface and scavenge in the intertidal zone, like seabirds."