Mother and son in Essex car crash escape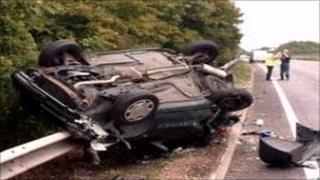 Police have said a woman and her teenage son were fortunate to escape after their car overturned in Essex.
The 38-year-old Colchester woman and her son were in a Renault Clio on the A12 near Spring Lane, Colchester, on Wednesday when the car broke down.
The pair got out and shortly afterwards a Honda went into the back of the vehicle.
The Clio then overturned and landed on the crash barrier resulting in the roof being crushed.
Pc Allan Discombe, of Essex police, said: "They were very fortunate that they had got out of the car and were a safe distance away."
The 71-year-old male driver of the Honda was taken to hospital and discharged the next day.