Police cleared over CS spray use in Brentwood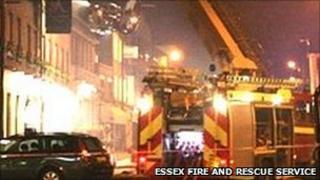 An inquiry into Essex police officers who arrested a man using CS spray has concluded the arrest was lawful.
Officers were called to Brentwood High Street last September and used CS spray during the arrest of a 28-year-old man.
The Independent Police Complaints Commission (IPCC) said the officer who discharged the spray has since been given advice on its use.
It said that two people sprayed with CS gas should have been given a clear warning.
The incident happened after police attending a fire at The Sugar Hut club in Brentwood were asked by staff at a nearby pub to deal with a disturbance.
The spray was also used by police in the arrest of a 16-year-old girl at the scene, the IPCC said.
'Pressured environment'
Alan Lethbridge, of Colne Drive, Romford, who was allegedly sprayed with CS gas in the incident, was arrested at the scene.
He was convicted for spitting in the face of a paramedic in April this year, but this was quashed in earlier this month.
IPCC commissioner, Rachel Cerfontyne, said: "The IPCC investigation has found that the arrests were lawful and that officers were dealing with a pressured environment.
"It was a busy scene with people milling around as a result of the nearby fire, and officers were properly motivated to move people outside a safety cordon.
"The events that unfolded could have been avoided if the people involved had walked away as officers reasonably requested."
At the conclusion of its investigation the IPCC submitted a report to Essex Police.
'No misconduct issues'
Three police officers involved have been subject to management action, and the officer who deployed the CS spray has been given advice on the use of the spray.
The IPCC has recommended that Essex Police clarifies its force policy on the use of CS spray, and training is improved for Essex officers in resolving conflicts and public order situations.
The Crown Prosecution Service, after examining a file of evidence, has previously decided no criminal charges are warranted against any officer.
Deputy Chief Constable Andy Bliss, of Essex Police, said: "I have concluded, in conjunction with the IPCC, that there are no misconduct issues.
"We have, however, thoroughly reviewed the incident and the officers involved have been fully debriefed by the Chief Superintendent in charge of our Professional Standards Department."