Art from scrap at new recycling centre in Essex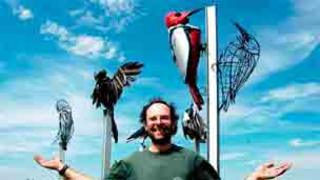 Statues of giant birds made from scrap metal have been erected at new recycling centre in Essex.
The birds are the work of artist Ptolemy Elrington who made his name producing nature-related metal art.
He made an owl, sparrow-hawk, kestrel, woodpecker and a tree-creeper and mounted them at Braintree's new recycling centre.
Essex County Council commissioned the birds as part of a programme to raise the cultural profile of Essex.
Tracey Chapman, cabinet member for environment and waste, said: "I hope our residents find this public art a worthwhile addition to their community and that it encourages people to recycle even more."
Mr Elrington said: "I asked myself what would keep visitors coming back again and again to a recycling centre?
"That's what gave me the idea of using some of the old materials they were trying to recycle.
"I hope the results speak for themselves and that residents will be inspired to think a little bit about how useful recycling is to their county and the world."