Firefighters and public at risk across four counties, union says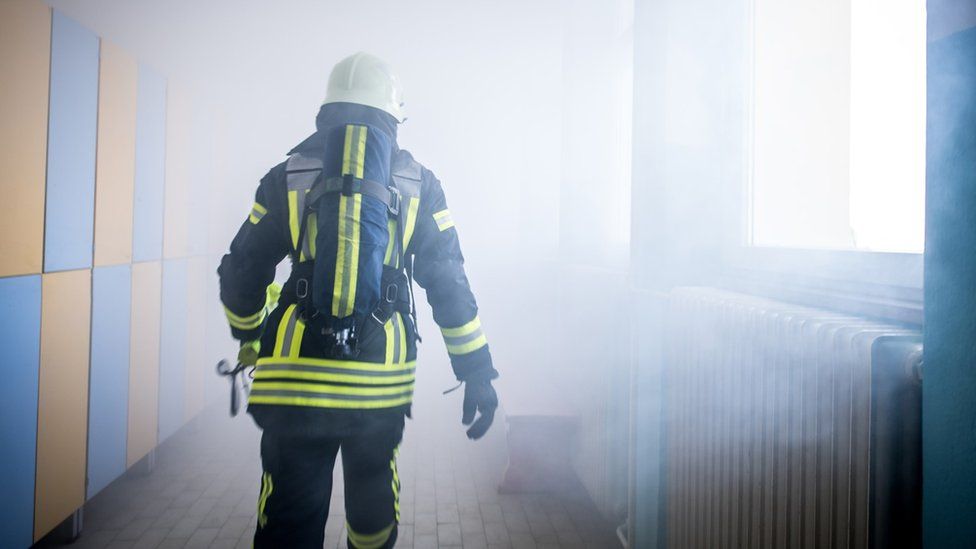 Two fire and rescue services have been reported to the government by union bosses in a row over safety.
The Fire Brigades Union (FBU) acted over a policy to send crews into high-rise building fires with breathing equipment turned off.
The FBU says the policy is unsafe and unlawful and has reported Hampshire and Isle of Wight, and Dorset and Wiltshire fire services for implementing it.
Both fire services insist safety is their primary concern.
New practices put forward by the National Fire Chiefs Council last year instructed firefighters to turn on their breathing apparatus only if a gas monitor alarm is activated, according to the Local Democracy Reporting Service (LDRS).
But in a letter to the Health and Safety Executive (HSE), the FBU argued this would be too late, leaving firefighters no time to don their breathing apparatus or escape to safety.
Riccardo la Torre, FBU national officer, said: "This procedure is unsafe, unlawful and unprofessional, and puts firefighters and the public at greater risk.
Mr Torres said the move tore up "half a century of health and safety law", best practice and firefighter training.
"It will not make living and working in high-rise buildings safer or tackle the wider crisis in building safety," he added.
There was outrage from firefighters across the region when the new practices were introduced last year, the LDRS reported.
At the time, Hampshire & Isle of Wight Fire & Rescue Service (HIWFRS) said the policy change would not prove a risk to firefighters.
It said firefighters working outside the confines of a restricted stairwell would still use their breathing apparatus, the LDRS said.
The Dorset and Wiltshire service (DWFRS) said it had an excellent health and safety record and that the safety of its crews and the public "will always be our priority".
Assistant chief fire officer Andy Cole said: "We are happy for the Health & Safety Executive to examine our procedures, which are shared with Hampshire and Isle of Wight fire service, and are aligned to national guidance."
Last September, Hampshire's chief fire officer Neil Odin said: "The safety of our firefighters and the public is our primary concern and any suggestion that we would put people at risk is wrong."
Related Internet Links
The BBC is not responsible for the content of external sites.