Duropolis: Dorset Iron Age settlement skeletons unearthed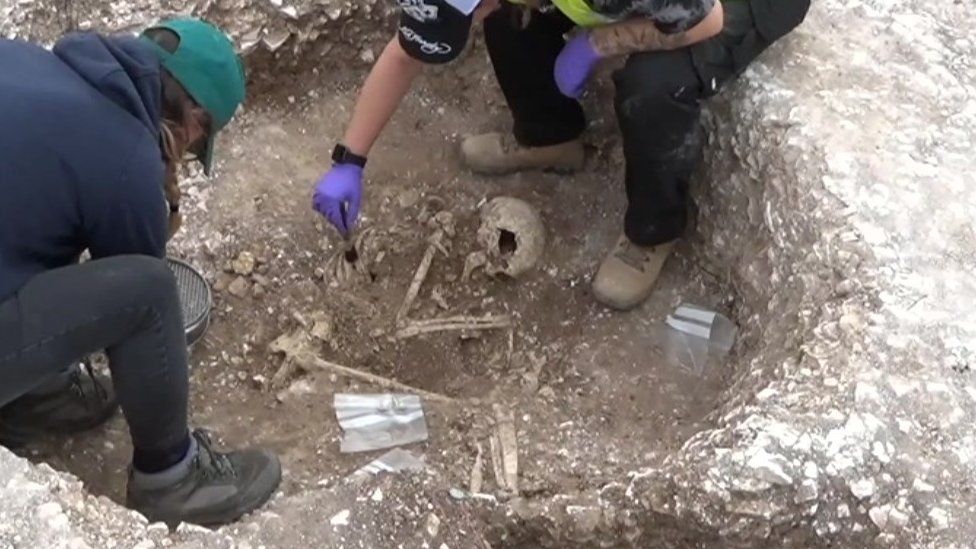 The remains of five inhabitants of a pre-Roman settlement have been unearthed during an archaeological dig on farmland.
The Durotriges tribe is thought to have occupied the settlement from about 100BC, near the present-day village of Winterborne Kingston, Dorset.
Archaeologist Dr Miles Russell said the latest dig had revealed "an insight into lifestyles" during the Iron Age.
Members of the public can view the site on at an open day on Sunday.
The Durotriges tribe is thought to have occupied the bustling farming settlement with hundreds of roundhouses, dubbed Duropolis.
A team of archaeologists from Bournemouth University began investigating the site in 2009, setting out to investigate how Britons and the Roman invaders interacted.
During the latest dig, which started earlier this month, the five skeletons were were found in oval pits in a crouched position.
Dr Russell said: "We're finding a whole range of grave goods - joints of meat, pottery bowls with drinks, foodstuffs for the afterlife - there is a real sense of a life after death and they are giving their deceased a method of going on to another place."
Storage pits, up to 2m (6.5ft) deep, also showed signs of ritualistic animal sacrifices - with the remains of a horse found in one pit.
"What we're finding is a whole range of Iron Age settlement activity - roundhouses, storage pits but also the debris associated with everyday life and religion too," Dr Russell added.
"There is a whole range of pottery which has given us an insight into lifestyles here in the Iron Age.
"Two and a half thousand years ago, you'd have had hundreds of people living up here - it's a real density of occupation," he added.
Join us at The @Durotrigesdig OPEN DAY on Sunday 3rd July 10.00am – 4.30pm. Free Parking at North West Farm, DT11 9AT. Guided tours of site and on-site museum plus refreshments and Dorset countryside. pic.twitter.com/z9iJFnKfli

— Bournemouth Uni (@bournemouthuni) June 29, 2022
Related Internet Links
The BBC is not responsible for the content of external sites.