Dorset Council 'granny' climate protesters will not face charges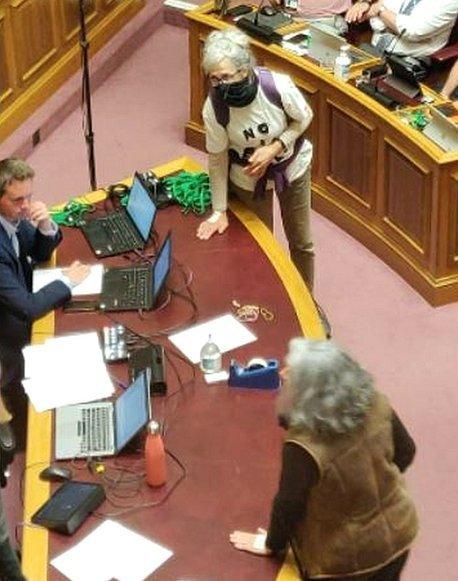 Two women who glued themselves to a table during a council meeting will not be charged by the police.
Giovanna Lewis and Annie Webster, the self-styled "grannies for the future", were described as "anarchists" by Dorset Council leader Spencer Flower.
Littlemoor and Preston councillor Louie O'Leary said he was "appalled that they have been let off the hook".
In a statement, seen by the Local Democracy Reporting Service, the pair said: "We stand by our action as a method of shining a light on the dangerous and ill-informed view that it is okay to expand fossil fuels in a climate emergency."
The pair said taxpayers money should be invested in "genuine clean and no-risk sustainable renewable energy".
"Come on Dorset councillors... do the right thing - and leave the best legacy possible for our children and grandchildren of the future," they added.
But Mr O'Leary told the BBC: "The agenda they are pushing in my opinion is not about decarbonisation or about renewables, it's about pushing a radical program including the overthrow of capitalism, the state, and a crypto-communist agenda.
"Dorset Council needs to continue to promote an energy policy that delivers for the majority not ponders to a vocal minority.
"My residents have overwhelming expressed support for the motion myself and the leader put forward and condemned the actions of these two individuals."
Dorset Police said: "Following an investigation and in consultation with Dorset Council, it has been decided that no further police action will be taken in relation to this matter."
Related Internet Links
The BBC is not responsible for the content of external sites.