Dorset County Hall steps up security after 'granny' invasion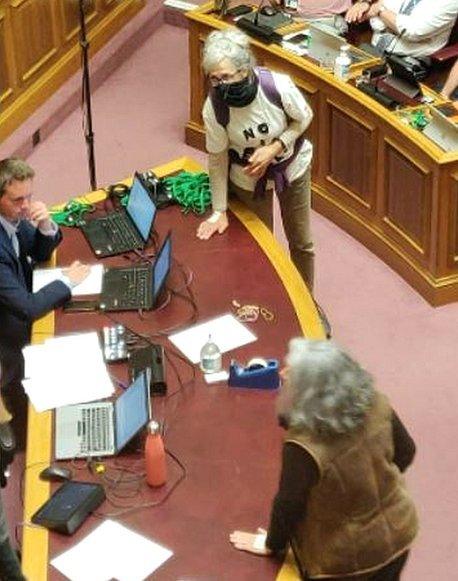 Security has been stepped up at a county hall after two women glued themselves to a table.
Giovanna Lewis and Annie Webster, who called themselves "grannies for the future", were described as "anarchists" by council leader Spencer Flower.
During their protest they read a statement berating the council for its lack of action on climate change.
Security locks have now been fitted to the council chamber doors in Dorchester.
A briefing note issued by Dorset Council chief executive Matt Prosser said: "A decision whether to call the police will be made by the senior officer in attendance in consultation with the chairman."
He added: "As soon as the chairman adjourns the meeting, members should leave the room immediately, and should not engage, physically or verbally, with people causing a disturbance."
The chamber can now only be accessed via ID badges.
Ms Lewis said she and Ms Webster were told by the council that security staff will bar them from the next meeting if they try to attend.
The two women said they were members of several organisations, but the protest was their own decision and they were acting alone.
Ms Lewis said councillors voting for the expansion of fossil fuels were "not looking after the safety and wellbeing of our children, grandchildren and great grandchildren".
At the last meeting councillors were about to debate a motion by Mr Flower calling for the UK to secure energy self-sufficiency.
They were ushered out of the chamber to continue their meeting in an adjoining room.
But some left in protest at not being able to reach a resolution under normal debating rules and the debate was cut short.
Dorset Police said enquiries into the incident were ongoing, but no arrests have been made.
Related Internet Links
The BBC is not responsible for the content of external sites.