Two injured after plane crashes into sea near Bournemouth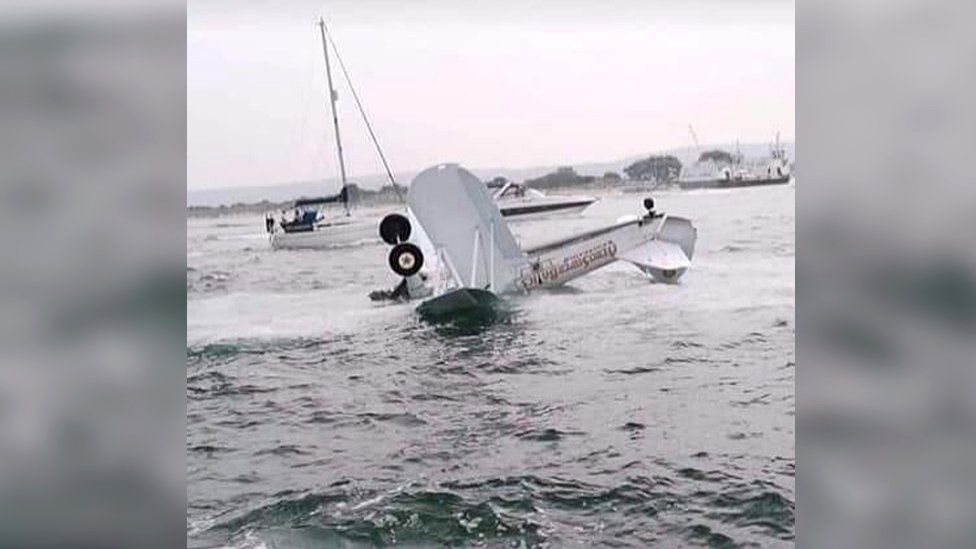 Two people have been injured after a plane crashed into the water at the Bournemouth Air Festival.
It involved a small wing-walker aircraft and took place away from the main display area off Bournemouth beach.
Dorset Police said the pair had been rescued from Poole harbour at about 15:30 BST and were reported to have suffered only minor injuries.
Eyewitnesses described the biplane flipping as it hit the water.
Police said an investigation was under way.
Alex Cason, 30, told the BBC he was fishing when he saw the plane come down in front of him.
"Just above the rocks I see this plane very low and I just sort of stood there in shock really - it was descending," he said.
"I couldn't stop looking at the pilot's face - he looked in real shock... a few seconds later 10 metres in front of me the plane crashes.
"The plane's nose hit the water, it flipped over, and then the pilot and passenger were under water for 10 seconds and luckily there was a rib [boat] nearby and they came over.
"It was very terrifying to watch, the lady [passenger] was screaming... I didn't know what to do, I just stood there in shock."
Owain Hughes, who was sailing in Poole Harbour at the time of the crash, captured the moment of impact on his phone.
"It was flying low for a while and then it landed before doing a front flip," he said.
"We were sailing into the harbour. I honestly thought it was going to crash into us."
The rescue team was soon on hand and involved two lifeboats and the coastguard helicopter, the RNLI said.
BBC Radio Solent's Ian Ramsdale, who was at the festival on Saturday, said spectators on the beach had been told a pilot had reported a fault and had flown off to try and rectify it.
"They just didn't return," he said.
Bournemouth Air Festival said the aircraft would be recovered in due course and thanked those who took part in the rescue.
It said: "It is a huge relief for all those involved in the Air Festival that the incident has resulted in the display crew being removed from the water safe and well."
It added it expected display flights to resume on Sunday.
Related Internet Links
The BBC is not responsible for the content of external sites.