Mary Anning: Fossil hunter celebrated with Jurassic 50p coins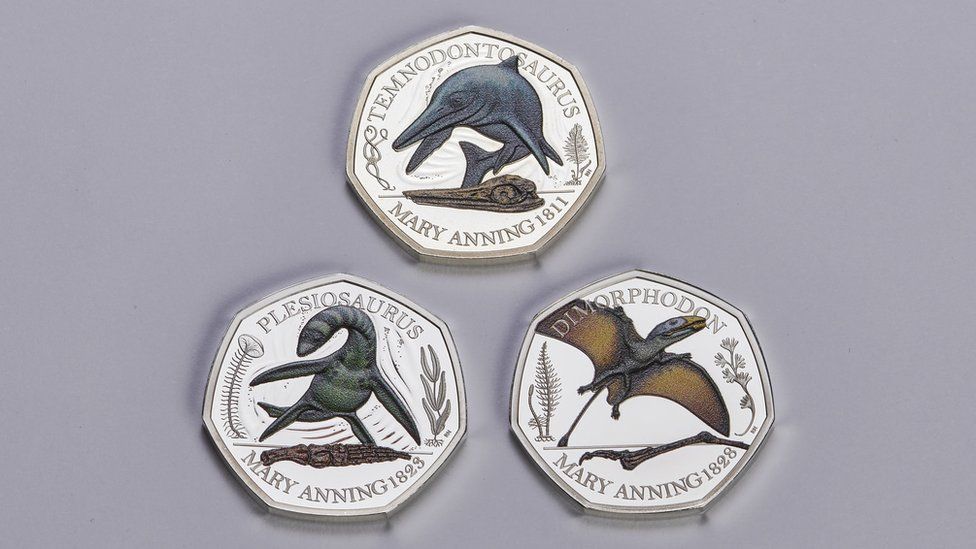 The life of 19th Century fossil hunter Mary Anning is being celebrated with a new commemorative 50p coin collection.
Anning discovered Jurassic skeletons in her hometown of Lyme Regis, Dorset, which helped change long-held thinking about prehistoric life.
The cost of each of the three Royal Mint coins will range from £10 to £1,100 for a gold version.
The collection will depict a temnodontosaurus - a large-jawed marine reptile, a plesiosaurus - a large marine sauropterygian reptile, and a dimorphodon - a small flying reptile.
Anning, who was born in 1799, was the child of a poor family and had nine siblings when she started helping her father collect fossils which he sold to tourists.
Her father died when she was 11 years old but she continued his work and, despite a lack of formal education, began teaching herself about geology and anatomy.
It was a year after her father's death that Anning discovered the skeleton - now known to be an ichthyosaur - that helped propel her into the history books.
She died in 1847, aged 47, of breast cancer.
The new coins are part of the Royal Mint's Tales of the Earth commemorative 50p series, which have been created with the Natural History Museum.
Clare Matterson, from the museum, said the collection "celebrates a pivotal figure in the understanding of palaeontology, important contributions to science that were rarely acknowledged in Mary's lifetime".
After receiving the coin, collectors can use AR to scan the packaging to unearth facts, clips and images about the prehistoric beasts.
The coins will be available to buy on the Royal Mint's website.
Related Internet Links
The BBC is not responsible for the content of external sites.