Wareham Forest fire: Tree replanting 'rushed', charities warn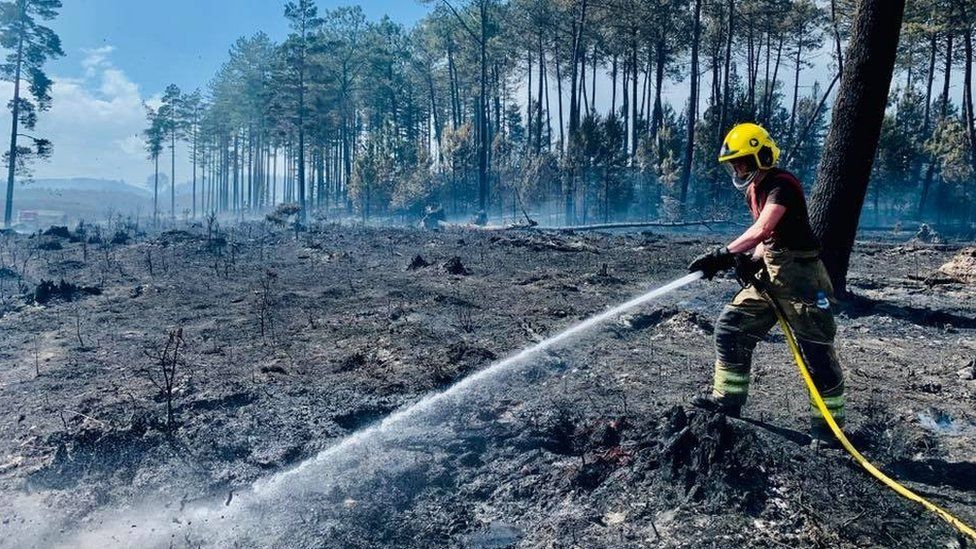 Charities including the RSPB have criticised the restoration of a Dorset forest that was decimated by wildfires amid concerns about wildlife.
A huge blaze damaged 550 acres of land in Wareham Forest over more than two weeks in May last year.
Wildlife charities have expressed concern about the replanting of pine trees and want Forestry England (FE) to return more of the area to heathland.
FE said it had left large unplanted areas to expand and connect the heath.
Dorset's heaths are home to rare birds and reptiles including Dartford warblers, nightjars, sand lizards and smooth snakes.
The RSPB, Dorset Wildlife Trust, Plantlife, Amphibian and Reptile Conservation and Butterfly Conservation issued a joint statement calling for a "new vision" for the forest.
Dante Munns, of the RSPB, said it was "very disappointing" that FE had "rushed ahead" with replanting.
Dorset Wildlife Trust conservation director Imogen Davenport said: "There is growing concern that poor choices are being made in the push to do this quickly.
"The Royal Botanic Gardens at Kew have recently issued a ten-point guide to ensuring that tree planting does not cause more harm than good.
"Sad to say this planting fails on all ten points."
FE said the planting was part of an existing plan developed in consultation with nature charities and other groups.
Bruce Rothnie, the group's forest management director in the south, said: "Our work will ensure these young trees can reach maturity and really contribute to the goal of reaching net carbon zero.
"Also, we've left large areas unplanted to expand existing areas of heathland and connect them through unplanted corridors."
Wareham Forest covers 1,500 hectares, one third of which is designated a Site of Special Scientific Interest.
Related Internet Links
The BBC is not responsible for the content of external sites.