Beach crowds descend on Bournemouth, Brighton and Poole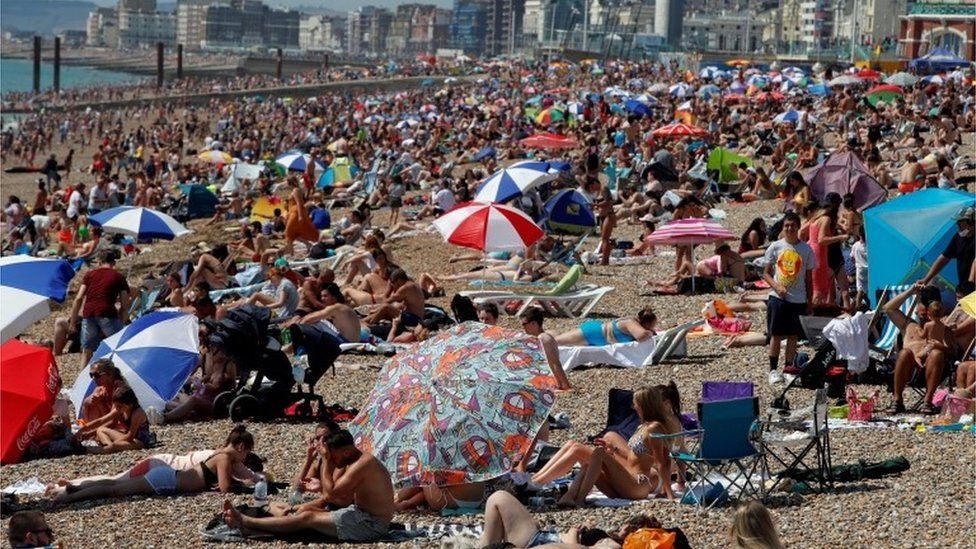 Sun-seekers had to be turned away as thousands descended on Bournemouth and Poole to visit the towns' beaches on the UK's hottest day of the year.
By 09:00 BST roads were gridlocked and a mobile app to aid social distancing was showing red in three areas - meaning "avoid".
Police and council officers patrolled the seafronts in both towns.
Brighton and Hove City Council, said crowds were making it "impossible to maintain physical distancing" there.
And in Kent, Thanet District Council said some of its most popular beaches were full.
Meteorologists said temperatures recorded at Heathrow had reached 37.8C (100.04F), making it the third warmest day ever recorded in the UK.
Dorset Police said its officers would be working longer shifts and some had their rest days cancelled to cope with the anticipated influx of visitors over the summer.
By 11:00 BST traffic marshals were already turning people away from Sandbanks car park and residents were urging the council to close the road.
By mid afternoon, nearly all of the seven-mile stretch of beach between Poole Harbour and Highcliffe was marked as red on the council's beach app, meaning "avoid, safe social distancing not possible".
Dorset Council said car parks at Lulworth and Durdle Door, on the Jurassic Coast, were also full and urged visitors to go elsewhere.
Yvonne Jones, 66, who has been a beach hut holder in Poole for 35 years, said: "There shouldn't be this many people here - but Boris [Johnson] should have made sure people stayed in their own counties.
"The traffic is horrendous - I live locally and it was a nightmare to get here. It's the locals who end up suffering."
Bournemouth Christchurch and Poole (BCP) Council leader Vikki Slade said the towns were ready to welcome visitors "with open arms" but marshals had been deployed at car parks along with extra security officers, first aiders and additional traffic management systems.
At the scene: Toby Wadey, BBC South
Traffic is winding every way you look on the roads approaching Sandbanks.
I watched as some flummoxed drivers finally made it to the car park entrance - only to be told in no uncertain terms to turn around. They left frustrated.
For those who had made it to the beach, they found the sand much busier than an average Friday.
On the whole though, the people I spoke to felt beach-goers were doing their best to be responsible - their biggest worry was what mess would be left behind to clear in the morning.
In Bournemouth, a major incident was declared on 25 June because of the crowds.
At the time police reported fights, overnight camping and three men were stabbed in an attack near Bournemouth pier.
Cars were left abandoned on verges as visitors struggled to park and the beaches were strewn with litter.
BCP Council said it now had powers to clamp or tow away vehicles parked illegally.
In Kent, Southeastern Railway said trains bound for the coast via Faversham were very busy, making social distancing impossible.
Thanet Council urged people thinking of heading to Joss Bay, Botany Bay and Viking Bay in Broadstairs to reconsider their plans as the beaches there were nearing capacity.
Sun-seekers were also warned to avoid Camber Sands in East Sussex where Rother District Council said the car parks were full.
Related Internet Links
The BBC is not responsible for the content of external sites.