Jamie Davis: Ex-serviceman took own life after suffering PTSD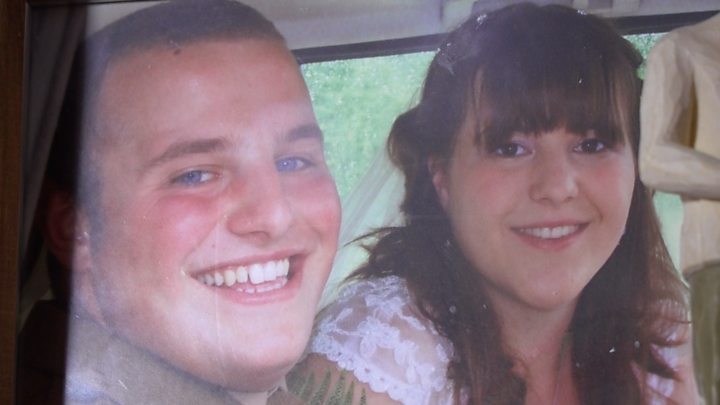 A former rifleman took his own life after suffering from "heartbreaking" post-traumatic stress disorder (PTSD), an inquest has heard.
Jamie Davis, 30, of Christchurch, Dorset, was found hanged in his van in Totton, Hampshire, on 11 January.
His widow Alicia said he sought help for PTSD after his son asked why he was screaming in the night but missed several medical appointments.
Hampshire coroner Jason Pegg recorded a conclusion of suicide.
Mr Davis suffered shrapnel injuries and witnessed the deaths of colleagues in Iraq and Afghanistan, the inquest heard.
Mrs Davis, from Bournemouth, said he subsequently suffered from "nightmares night and day" and was ashamed of his condition.
"He was screaming in the middle of the night... punching walls when he was talking about it," she told the hearing.
"He was riddled with guilt... One of his best mates got killed and he said that should have been him."
Mrs Davis said her husband failed to attend medical appointments for PTSD in 2018 partly because he was not allowed time off work and could not afford to lose pay.
He moved out of the family home in July 2019 because he "couldn't mentally hold it together" in front of their two sons, she said.
"The boys are his life... They were seeing that and it was heartbreaking," she added.
She said her husband's death had saved the lives of four servicemen who had subsequently admitted they had PTSD.
Mr Pegg said Mr Davis had been assessed as being at low risk of self-harm, although he "was in a very bad place" after being rejected for military jobs and was also concerned about his relationships.
He said: "I am glad to hear that following his well-attended funeral, four riflemen colleagues may have been persuaded to seek help [for PTSD] themselves."
You can find information and support on mental health from the BBC Action Line here.