Bournemouth fireworks: Five teenagers arrested over stabbings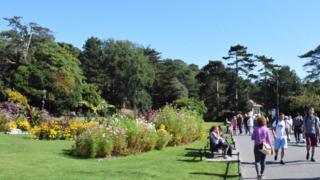 Five teenagers have been arrested after four boys were stabbed following a fireworks display in Bournemouth.
Dorset Police said three 17-year-old boys from Saudi Arabia and a 15-year-old boy from Bournemouth were hurt in the Lower Gardens at about 22:25 BST on Friday.
Their injuries are not thought to be life-threatening.
Crowds had gathered in the area for the resort's regular summer fireworks. Police have appealed for witnesses.
A Section 60 Order has been put in place giving police special search powers.
A 14-year-old boy from Bournemouth was arrested on suspicion of assault.
Three 15-year-old girls and a 13-year-old girl, all from Bournemouth, were arrested on suspicion of conspiring to cause grievous bodily harm with intent.
Det Sgt Richard Winn said: "We are aware that an incident in such a public place causes concern to our residents and visitors.
"There will be enhanced patrols throughout the bank holiday weekend, which should not alarm anyone, but will hopefully serve as a reassurance."