Bournemouth A338 Spur Road: Lane closures lifted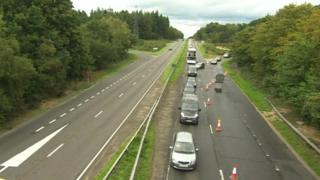 Lane closures on the A338 Bournemouth Spur Road have been lifted for the Christmas period.
Drivers on the main route into town have reported long queues since roadworks started in September.
The council was heavily criticised for its planning of the works and agreed to reopen all four lanes for an extended period over Christmas.
It said lane closures would resume on 7 January and the works are expected to last until June.
The lane closures were lifted for Christmas two days earlier than first announced by the council.
Work will still continue on the drainage and the widening of the embankment southbound until 21 December, but this will not have an impact on traffic, the borough council said.
Overnight closures will be in place southbound for two nights on 5 and 6 January, between 20:00 and 06:00 GMT, to reinstall steel barriers and reduce the road to one lane.
The scheme has been described as "chaotic", "shambolic" and "unreasonable" and motorists branded the authority's advice to work from home to avoid tailbacks "a joke".
Bournemouth West MP Conor Burns previously criticised Bournemouth council for a "sarcastic" comment it made on social media about the roadworks.