Cadbury's gold egg sells for £6,500 at auction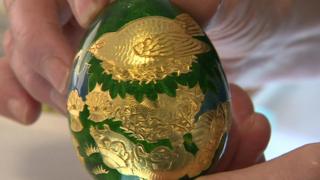 A 22ct gold and enamel Cadbury's egg has sold at auction for £6,500.
The engraved egg was part of the Creme Egg Mystery Conundrum, a promotional treasure hunt by Cadbury's to find 12 eggs in 1983.
Seller, Clive Pinder from Dorset, found the egg 35 years ago at Cricket St Thomas, Somerset. He said: "It was astonishment that we had succeeded."
It was sold earlier at Duke's Auctioneers of Dorchester - it had been expected to fetch up to £8,000.
The dozen eggs were buried around the UK - people had to solve clues hidden in an accompanying book to find them.
Mr Pinder, from Wareham, said he had spent hours searching for the egg after solving the clues from the book and found it under a farm sign.
He said: "By chance I saw a sign by the side of the road and this sign incorporated several of the clues in the picture in the book. I dug down about 12 inches and felt something really hard."
He unearthed a casket containing a gold egg decorated with a cuckoo.
The eggs were designed and made by Garrard & Co, then the Queen's official jeweller, and were estimated to be worth £10,000 at the time.
A "secret" 13th that is larger than the rest sold at auction in Lincolnshire in 2017 for £17,200.