Wimborne greenbelt development approved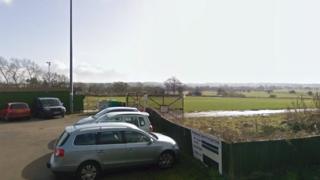 Plans for a 200-home development in Dorset, some of it on greenbelt land, have been approved.
Twenty homes in Wimborne will be demolished to make way for the houses, flats, cafe and office on land off Julians Road and the River Stour.
Wimborne Town football club, which occupies the part of site, will be relocated.
The plans were agreed by East Dorset district councillors by eight votes to two, with one abstention.
Some of the homes will be built on former greenbelt land which was redesignated four years ago to allow it to be developed.
An existing area of greenbelt farmland will also be reclassified to create a recreation area.
In recommending the proposals for approval, officers said the benefits of the scheme outweighed the harm to the greenbelt.
About a third of the 203 homes will be classed as "affordable".