Bournemouth children's mental health centre refused planning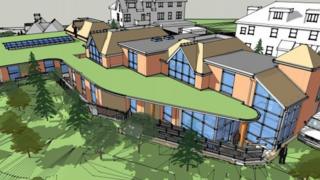 An NHS trust's plans to build a "vital" children's psychiatric intensive care unit in Bournemouth have been refused by councillors.
The eight-bed unit on the site of existing mental health unit, Pebble Lodge, was turned down by the council's planning board on Monday.
Dorset Healthcare NHS trust wanted to build it on land used as a car park.
The trust had secured £8m from the government to build it and £3m a year to cover running costs.
Residents and planning officers opposed the plans, raising concerns about the lack of parking, tree loss, privacy issues and the impact it would have on the Grade II listed Herbert Hospital buildings on the site.
The trust said there was currently no psychiatric intensive care unit for children in Dorset, which meant many youngsters "are sent as far away as Manchester due to bed shortages nearer to home".
Eugine Yafele, from the trust, said: "This is an essential facility and there's a huge need for this in Dorset, and particularly in Bournemouth and Poole."
The council's planning chairman, Councillor David Kelsey, said: "I don't think the plans as they are are appropriate and I think the NHS need to look outside of the box and need to look at another site."