Swanage bandstand to 'reopen by the summer'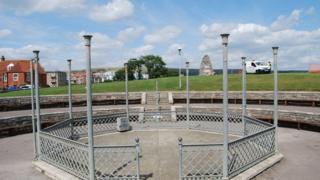 A rare 1920s bandstand on the Dorset coast is set to be fully restored by June 2019, campaigners have said.
The roof of Swanage's 96-year-old sunken bandstand was removed following storm damage in 2012.
More than £120,000 has been raised towards the cost of its repair since an appeal was launched last year.
The venue, which is a rare example of a coastal bandstand sunk below ground, still regularly hosts performances, including by the town's brass band.
Alan Houghton, from Friends of Swanage Bandstand, said he was "so proud" of the town's efforts.
He started the appeal in 2017 after claiming residents were "incensed" at the bandstand's condition.
The town council set an ultimatum that the site would be filled in unless a realistic solution was found.
More than £77,000 has since been raised from public donations, with £50,000 given by the town council.
Mr Houghton said: "Really, I'm so proud of the town - everyone has done us proud and worked so hard. It's going to be back looking just as it was."
The town's council agreed to put £50,000 towards the estimated £160,000 cost of its repair, if campaigners could match the amount.
The council has now put the contract for the restoration out to tender with work hoped to start in the new year. It also allows the group to bid for lottery funding for the remaining costs.