Poole's Twin Sails bridge fault 'not easily fixed'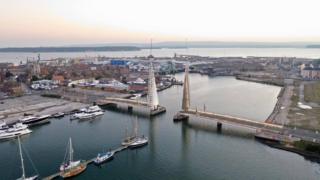 A fault that developed in Poole's Twin Sails bridge is believed to be "serious" and will not be "easily rectified", the council has warned.
The lifting bridge, which links Poole with Hamworthy, has been closed for two weeks since it began making a grating noise when the bridge was being raised.
Drivers are being told to use nearby Poole Bridge until the issue is solved.
Borough of Poole said it had adjusted traffic signals to help ease delays in the town.
The council's head of infrastructure Julian McLaughlin said: "Following the advice from the sub-contractor, the bridge has been closed while we investigate a grating noise coming from a hydraulic cylinder when the bridge is being raised.
"We believe this is a serious fault, not easily rectified, but will know more once further exploratory work is completed."
The £37m Twin Sails Bridge opened in 2012 and was initially beset with defects including sections of the road falling off as it was raised.
Last month, the Local Democracy Reporting Service said Borough of Poole had agreed a settlement with its contractor Interserve for the overrunning of repairs to Poole Bridge - the town's only other crossing.
The 90-year-old drawbridge was closed for 16 months for refurbishment, reopening in January seven months late and over the £4.7m budget.
The two lifting bridges enable drivers to avoid a six-mile detour around Holes Bay while allowing boats to pass between Poole Bay and Holes Bay.