Portland drug-use detainee died after 'lax monitoring'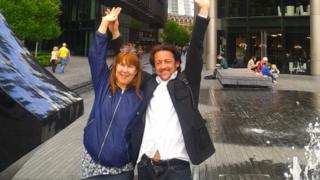 A poorly-monitored detainee hanged himself after repeatedly taking "widely available" drugs at an Immigration Removal Centre, a report has found.
Branko Zdravkovic, 43, used former legal highs on at least three occasions during his 18-day detention at The Verne on Portland, Dorset, in 2017.
He died after being moved to a more "relaxed" unit despite his suicidal history, the Prisons Ombudsman said.
The report said the Slovenian was not properly assessed or observed.
Mr Zdravkovic was scheduled for deportation after being arrested on suspicion of criminal damage and public order offences.
Within four days of his arrival at The Verne, he was taking the highs, known as New Psychoactive Substances, the report said.
During drugs episodes, he jumped into a fishpond and was also once restrained after throwing bibles at detainees.
He was found dead on 8 April 2017, shortly after being moved from the centre's Care and Separation Unit to a residential unit.
Staff relied on Mr Zdravkovic's "reassurances that he was fine" rather than his suicidal history, the ombudsman said.
'Utterly devastated'
The report said the centre's drugs strategy was "not effective" and staff had not had recent suicide training.
The ombudsman also said issues over drugs and inadequate supervision had arisen with a previous death at The Verne in August 2015.
A Home Office spokesman said the department had "noted" the report and would share its recommendations across the detention estate to ensure "lessons are learned".
The spokesman added: "Any recommendations made following an investigation into a death are treated seriously and action is taken to ensure they are implemented swiftly."
Mr Zdravkovic's partner, Nicola Sanderson, who learned of his death when she arrived to visit him on 9 April, said she was "utterly devastated".
She said: "We were not kept fully informed of the details of Branko's detention. This lack of communication left him in a very isolated situation."
At a previous inquest into the death, a coroner said he would ask the Home Office about the processes for managing suicidal detainees.
The Verne became a prison this year after closing as an Immigration Removal Centre in January.