Wessex Water pays £975,000 after sewage spills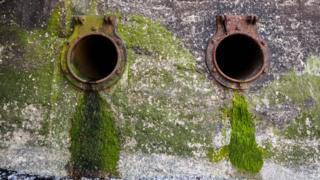 Companies that polluted rivers and made other environmental breaches have agreed to pay more than £2.2m to a host of green charities and projects.
Wessex Water will pay the highest fee, £975,000, as a redress for a series of sewerage spills in Swanage, Dorset.
The Environment Agency said more than 142,000 cubic metres of sewage was discharged into the sea during spills in 2016 and 2017.
The money will be used to fund flood defence schemes and recycling services.
The payment is the highest in UK history, with £400,000 going to a council flood defence scheme in Swanage and £400,000 to Dorset Waste Partnership.
Peter Kellet, the Environment Agency's legal services director, said: "We take these environmental incidents very seriously and these payments of more than £2.2m direct to charities will help them carry out vital projects to improve our environment right across England."
Elsewhere, Carlsberg UK will pay a £120,000 to two organisations for polluting the River Nene in Northampton, where the company has a brewery and bottling plant.
Tesco will also give £100,000 to the Yorkshire Wildlife Trust for polluting a watercourse and ponds with diesel, while Yorkshire Water Services will pay £200,000 to the same trust for polluting a river.