Manhole erupts in flames on Bournemouth footpath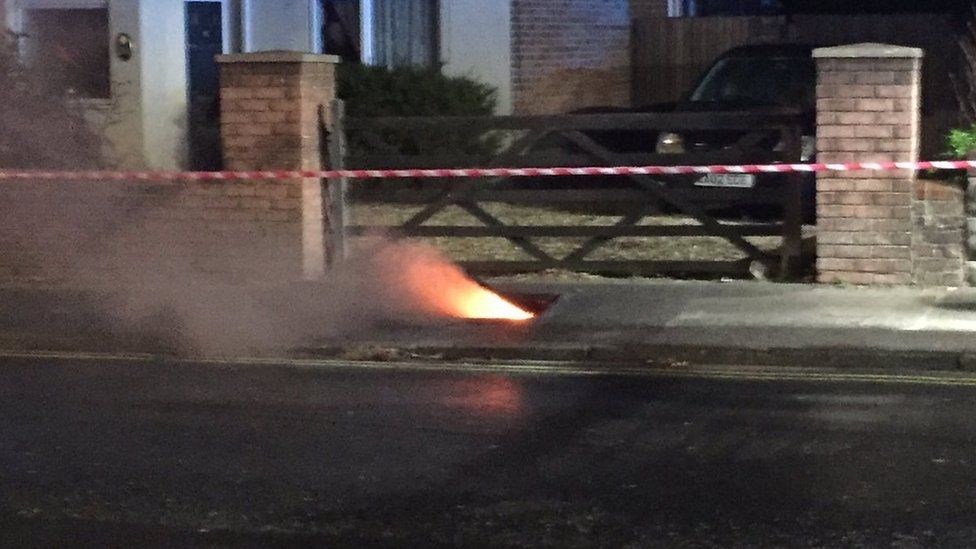 An underground explosion has left a charred hole in a footpath with flames reaching 2.4 metres (8ft) high.
Dorset and Wiltshire Fire and Rescue received reports of smoke and flames from a manhole at 19:20 GMT.
Tremors were felt in homes near the explosion on the corner of Astbury Avenue and Wallisdown Road, Bournemouth.
A fire crew from Poole attended and said the fire was caused by an underground electrical joint box.
Ross Millen, who witnessed the blaze, said: "The power went out and then five seconds later there was an explosion, my neighbours felt the tremors."
He added there was "a nasty smell" in the air around the fire.
A spokeswoman for the fire service said the smell was likely to be from "burning electricals" rather than gas, which does not produce a smell.
Emergency crews checked adjacent properties for signs of carbon monoxide.
The flames were put out with carbon dioxide extinguishers.