'Dangerously underweight' seal pup rescued from Weymouth Beach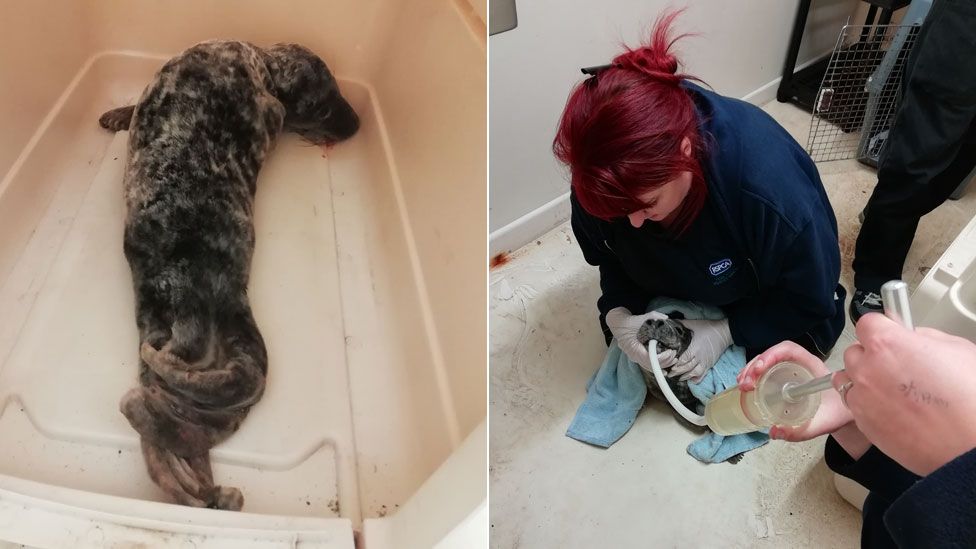 A "dangerously underweight" seal pup has been rescued by fishermen after being found on a Dorset beach.
The one-month-old grey seal, which also had several bite wounds, was discovered on Weymouth Beach on Wednesday, the Sealife Centre said.
The male pup was first taken to the centre where it was given an electrolyte drink to help it rehydrate.
It was then transferred to the seal rehabilitation unit at RSPCA West Hatch in Taunton, Somerset.
It will be released back into the wild "in the near future", Weymouth Sealife Centre said.
Sarah Everett, an aquarist at the centre, said: "He was dangerously underweight and had several bite wounds."
An RSPCA spokeswoman said the bite injuries were on the pup's hind flipper and could have been made by dogs or other seals.
"His wounds are deep and on one of his digits he has an exposed bone," she added.
It is common for both grey and common seals to be found off Dorset but it is rare for them to come to shore "on such busy beaches", the Sealife Centre said.
"A healthy animal would usually head back into the water if approached by people, but this poor baby was very tired and in need of help."
The RSPCA spokeswoman said: "He was probably weaned and had probably left his mum already, but could have become separated from her accidentally due to a storm or high tide."
Related Internet Links
The BBC is not responsible for the content of external sites.