'Thomas Hardy novel' bridge in Dorset reopens after collapse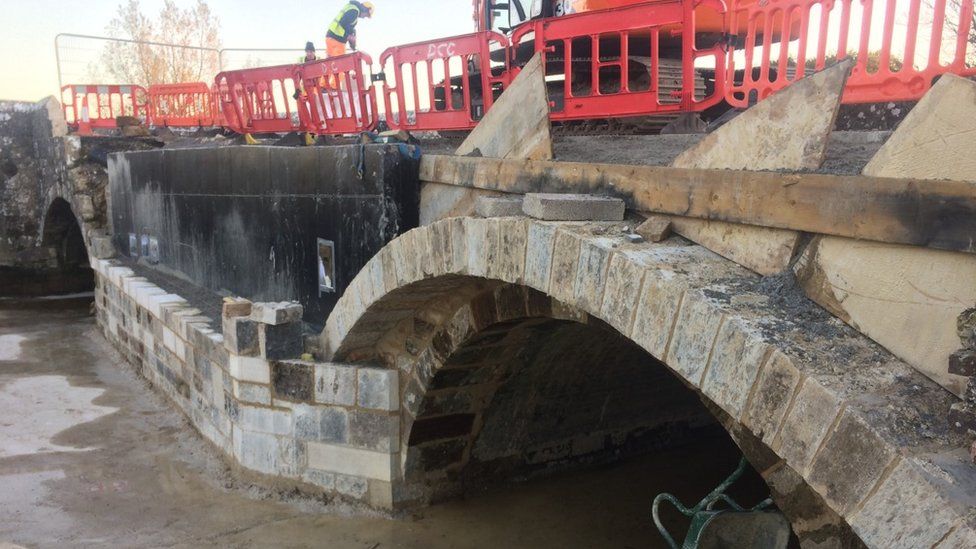 An Elizabethan bridge that features in Thomas Hardy's novel Tess of the D'Urbervilles has reopened after partially collapsing.
The bridge, which has been closed to traffic for many years, has reopened to pedestrians and cyclists.
Reinforced concrete was used to repair its retaining wall to stop future erosion, the county council said.
A dry-dam constructed during repair work has been removed as the stonework is now above the waterline of the river, as has a temporary scaffold bridge, it added.
A spokesman said: "This ensures that all six arches of the bridge are free for the river to flow through as this time of year there is a greater risk of increased water flow and potential flooding."
Work will continue until the end of November to put back the original stonework using lime mortar to "retain the character" of the bridge, Dorset County Council said.
The collapse did not affect the arches of the bridge.
It features in Tess of the D'Urbervilles due to its location next to Woolbridge Manor, the home of the D'Urberville family.
Related Internet Links
The BBC is not responsible for the content of external sites.