Dorset County Council staff criminal records 'not checked'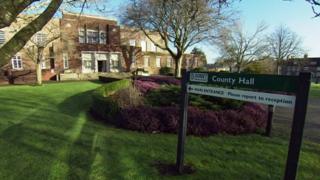 Criminal record checks have not been carried out properly on some staff working at Dorset County Council, according to an official audit.
The report says the problem is a result of job roles being incorrectly assessed as not needing a Disclosure and Barring Service (DBS) check.
In some cases people had been given roles which required DBS clearance, but no checks were carried out.
The council said a review of all roles across the authority was underway.
SWAP Internal Audit Services said individuals who required DBS clearance, "started work prior to clearance being obtained, or an appropriate risk assessment in place leading to potentially unsuitable individuals working with vulnerable people".
'Disappointing news'
The audit also found the authority failed "to identify individuals unsuitable to work with vulnerable people, potentially leading to harm or detriment to the wellbeing of service users".
Dorset County Council's audit and governance committee chairman David Harris said: "I'm surprised that it had got as bad as it has - it's disappointing news.
"It isn't acceptable and clearly the system that we've got in place needs reviewing.
"It is obviously concerning that there may be individuals who have not had an adequate check that are working with vulnerable people and that's why there is an urgency in this matter that we get this right."
School-based staff were not part of the audit they are subject to separate checks.
A follow up audit is expected to take place in November.