Poole Hospital: CQC warning notice over surgery safety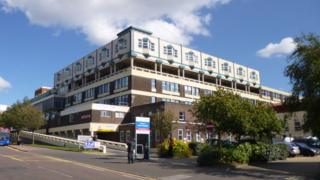 A hospital where a string of serious mistakes took place needs to improve patient care and safety in surgery services, inspectors have said.
An unannounced inspection at Dorset's Poole Hospital was carried out by the Care Quality Commission (CQC) in June after whistleblowers raised concerns.
It issued a warning notice highlighting problems with management of medicines, infection control and staff support.
The trust said it was "making good progress" in tackling the issues.
The CQC said the inspection was prompted by the concerns from whistleblowers and seven reported so-called "never events" - medical mistakes so serious they should never happen.
'Unprecedented trauma'
Inspectors found investigations into safety incidents were not concluded quickly enough and work in theatres was not always carried out in a way to prevent and control infection.
Dr Nigel Acheson, deputy chief inspector of hospitals in the South, said: "The warning notice sends out a clear message to the trust where it must take action to improve.
"We will return in due course to ensure that the necessary improvements have been made to protect patients."
Poole Hospital NHS Foundation Trust's chief executive Debbie Fleming said the hospital had an "unprecedented number of trauma admissions" at the time of the inspection.
"As a consequence, at that time, we failed to meet our usual high standards. The CQC's report highlighted a number of areas that needed attention, but the trust was aware of these and had already started taking steps to address them.
"A comprehensive action plan is now place, and we are already seeing significant improvement in a number of areas."