Helicopter crew honoured for Weymouth Jurassic Tower rescue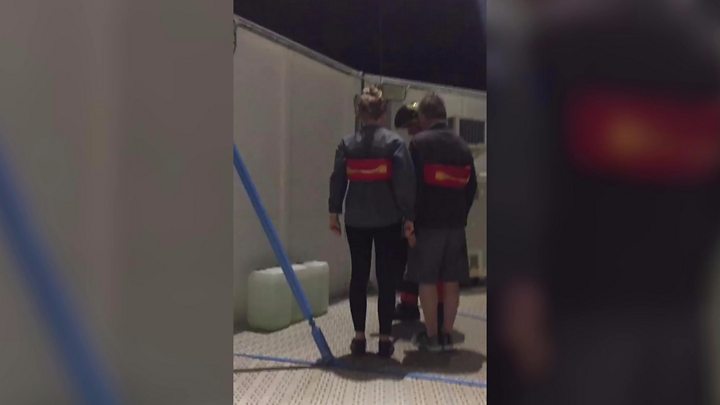 Four helicopter crew members have been honoured for their role in rescuing 14 people trapped up a viewing tower.
Thirteen visitors, including an 11-week-old baby, and a staff member spent up to seven hours 53m (174ft) up Weymouth's Jurassic Skyline tower.
The air rescue, lasting almost four hours, saw the team cope with "a hugely challenging set of circumstances".
Crew members Simon Tye, Simon Hoare, Chris Hughes, and Alf Kitwood received the Goodrich Hoist Award.
Chief crewman Nick Horst, who nominated his colleagues based at Lee-on-the-Solent in Hampshire for the award, said: "There was a very high degree of skill involved in this rescue.
"The team had to cope with a very high hover and winching height, in fading light, for almost four hours."
The men were presented with the award at helicopter aviation event Helitech International in Amsterdam on Monday.
Following the breakdown, on 5 September 2017, the doughnut-shaped seafront observation capsule now has a specialist rope recovery team.