Thornhill mural 'to open to public' after Sherborne House restoration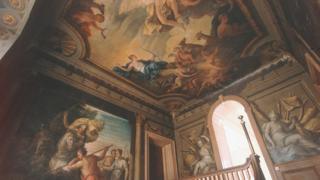 An 18th Century stately home with a Baroque mural by renowned artist Sir James Thornhill is set to be restored after being bought by a charitable trust.
Dorset's Grade I listed Sherborne House has been empty since 2010.
Sherborne House Trust 2018 said the building would become an "integral part of the town again" after its revamp.
Public access would also be enabled to Thornhill's mural, whose work also appears at St Paul's Cathedral.
Sherborne House on Newland, in the town, was first a private home and then became Lord Digby's School for Girls.
It was designed and built by British architect Benjamin Bastard in the 1720s and was a finalist in the second series of BBC TV programme Restoration.
'Complete wreck'
In 2011 it was sold by Dorset County Council to Redcliffe Homes, which built 44 new houses in the site's walled garden.
The company also renovated the "main structural elements" of the house but internally the house "is almost a complete wreck", said Sherborne House Trust 2018, which is led by multi-millionaire and former owner of Eldridge Pope brewery Michael Cannon.
The trust, which aims to apply for grants to help fund the revamp, added: "There is a huge amount of work to do before it will be able to open its doors."
Mr Cannon, chair of the trust, said: "We're extremely excited to become custodians of Sherborne House and once the extensive restoration has been completed, we hope this magnificent building will be an integral part of the town again."
The trust said it would liaise with Historic England and local planners "to ensure the restoration is carried out sympathetically".