Sandbanks' Haven Hotel 'structural failure possible'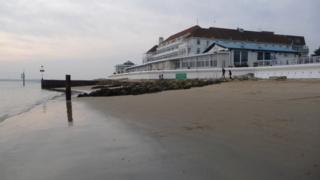 Part of a hotel on Dorset's exclusive Sandbanks peninsula could collapse, according to a structural report.
Haven Hotel, at the entrance of Poole Harbour, is already at the centre of a planning row after owner FJB applied to demolish it and replace it with flats.
A 2017 report, made public last month, said steelwork in the south and west wing was so "badly corroded" that "structural failure is possible".
FJB's managing director said the building was "not unsafe".
Borough of Poole council said it previously ordered an annual review of the structure which was now due.
The structural condition report, compiled for FJB in January 2017, appeared on the council's planning website in August.
'Corrosive environment'
It said: "The steelwork on both the south and west wings is very badly corroded to the point where a structural failure is possible.
"At present, this area is already 30 years over the intended design life of 60 years and unlikely to last much longer in an environment that is as corrosive as the marine environment."
FJB managing director John Butterworth said: "It's certainly not unsafe. What we are saying is the building is coming to the end of its commercial life and it's going to cost £30m to put it right."
Poole building consultancy team leader Bruce Carmichael said the council was "satisfied" with the report and had requested "an annual review of the structural design capacities of the areas identified" and any recommendations for repairs or structural modifications must be carried out.
He said: "This review is now due and we have been informed that this is now being actioned."
The original hotel dates back to 1887, with the south and west wings added in 1927.
Thousands of objections have been lodged against proposals by FJB and property developer Richard Carr to demolish FJB's three hotels on Sandbanks to make way for flats, hotel apartments and a new hotel.