Great Dorset Steam Fair 'disheartened' by traffic and toilet issues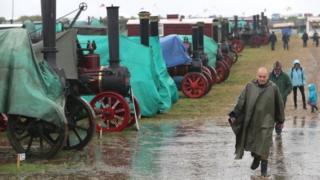 Organisers of the Great Dorset Steam Fair were "disheartened" by problems with site services and infrastructure during this year's event.
The annual vintage steam rally, near Blandform Forum, was attended by 200,000 people over the August Bank Holiday weekend.
Visitors turned to social media to complain about being stuck in traffic and "disgusting" toilets and showers.
Event organisers said they would be raising the concerns with contractors.
The 2018 event marked the 50th anniversary of the show and featured a record-breaking display of 500 full size steam engines.
Belinda Watsham posted on Facebook that she was "extremely disappointed" with the showers, while Amanda Maidment said unscreened open urinals near the food hall were "terrible".
In a statement, organisers said they were "disheartened" by the problems as they had deployed more security guards, had increased spending on traffic management and added an extra 125 toilets.
"We had every confidence prior to the show that our infrastructure and site services would be delivered to an acceptable standard.
"As part of the event debrief process, we will shortly be meeting with the contractors concerned to establish what went wrong and to prevent reoccurrences at future events."