Dorchester car park spaces 'to cost £40,500 each'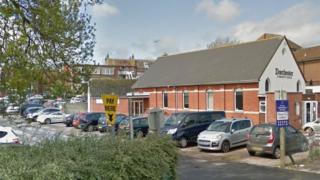 A council which spent nearly £1m buying and relocating a church wants to use the site for 23 new car parking spaces.
Dorchester Community Church had been due to make way for a shopping development which is now in doubt, the Local Democracy Reporting Service said.
West Dorset District Council is instead seeking planning permission to demolish the church to create more parking.
Councillor Susie Hosford said, at £40,500 each, the spaces would be the "most expensive" outside of London.
The £930,000 cost of buying the 0.05-hectare (0.12-acre) church site in the corner of a car park in 2015 did not include demolition of the church building and regrading of the land but the council said it had budgeted a further £250,000 for the works.
The church, along with an adjacent public car park in Acland Road and Charles Street, had previously been earmarked for a shopping development, including a Marks and Spencer store, 67 apartments and 470 underground parking spaces.
But in a separate report, council development director Martin Hamilton said the economic climate meant attracting a new "destination retailer" to Dorchester was now "highly unlikely".
Instead, the report suggests creating a new covered market in Charles Street to reverse the decline of the Wednesday market in nearby Fairfield, which has seen its turnover fall 14% since 2016.
Council documents valued the church at £350,000 but, at the time of purchase, the site's redevelopment potential pushed the value up to £700,000.
The Conservative-led authority also agreed to pay the church £205,000 for its new building next to Damers School in Poundbury and £25,000 in professional fees.
Liberal Democrat Ms Hosford, who represents Dorchester North, said: "The projected income from the extra spaces created cannot possibly justify the huge amount of expenditure that will have gone into producing them."
Environment councillor John Russell said: "The £930,000 was the cost of buying the land that the church is situated on and the decision was made when a large, wholescale retail development looked likely to take place on the entire site.
"We cannot change this historic decision, however as landowner we intend to utilise the land for best use to serve the community. Clearance of the site leaves us in the best position to do this."
Mr Russell added that the £930,000 paid for the site should not be included in the cost of the spaces and the real cost would be nearer £10,000 a space.