Rooftop stand-off at Portland prison ends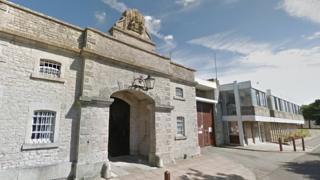 Three inmates who got on to the roof of a prison and Young Offender Institution in Dorset have come down, the Ministry of Justice (MoJ) has confirmed.
An MoJ spokesperson said the trio had got on to the roof on Wednesday afternoon at HMP YOI Portland.
Dorset Police said the stand-off ended after more than five hours at 20:40 BST.
A spokesman for the Ministry of Justice said it was resolved "with no injuries to staff or prisoners".