Camp Bestival cancelled after heavy rain and high winds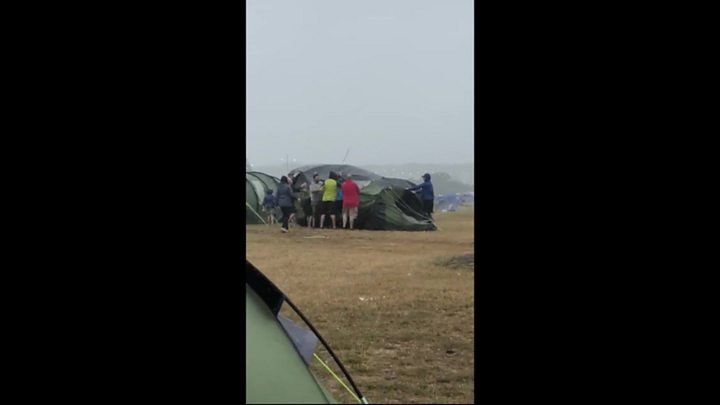 Heavy rain and high winds have put an end to Camp Bestival music festival.
Organisers of the event at Dorset's Lulworth Estate announced the closure of the arenas on social media on Sunday afternoon.
They said they were "utterly devastated and heartbroken" to have made the "tough decision" after being advised not to reopen them for safety reasons.
The team added its ticket refunds policy would be issued "as quickly as possible".
The Met Office issued a yellow warning for rain and wind for the area between 03:00 and 15:00 BST on Sunday.
Campsites at the venue are due to remain open until 14:00 on Monday and traders are also open, Camp Bestival said.
However, many festival-goers have already left the site and some wind-battered tents have been abandoned.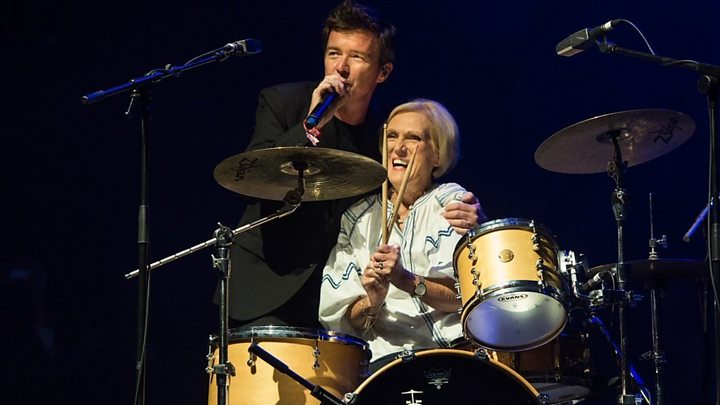 A statement from the organisers said: "Dear Camp Bestival, we are utterly devastated and heartbroken to say that we have been advised by our safety teams that we cannot re-open arenas again today due to the severe weather and the forecasting of continual high winds and rain.
"We have had the best three days in Camp Bestival's history, it's been our greatest ever show with all our favourite performers, shows, stages and artists."
These included culinary queen Mary Berry making a bizarre appearance as Rick Astley's drummer on Friday night.
The Never Gonna Give You Up performer has since tweeted a message of support to festival-goers about its early closure.
"Sending love to all," he said.
Other acts included Clean Bandit and Jesus Jones. Simple Minds had been due to headline on Sunday.
Revellers have been tweeting their thoughts on the early closure.
Jo Redfern said: "Sad times but safety first and all that - had a brilliant time at our first festival with the kids though so thank you."
While James Leeson joked: "@simplemindscom as you are now free do you fancy an acoustic set tonight in row f of camping plus. Last three tents."
Sebastian Greenwood, who has attended the event for the past 10 years, said: "Our tent has stood up well to the worst of the weather, and rather than try and take it down in these conditions we figured we'd make the best of it."
Posting a picture of cheeses and fresh bread on a table in his tent, he added: "We might be beaten by storm force winds and heavy rain, but that doesn't mean we have to let our standards slip."