Portland prisoners' Spice use 'risks health of officers'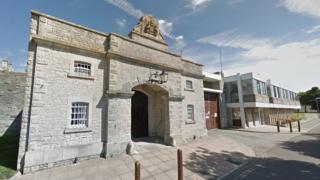 Prison officers claim their health is being put at risk by inmates using psychoactive substances.
Officers at HMP/YOI Portland say staff have been left unwell after being exposed to fumes from prisoners smoking the substances like Spice.
One officer said there was "no protection for staff potentially inhaling" the drugs.
The Ministry of Justice (MoJ) said "strict procedures" were in place where there was a risk of smoke inhalation.
In September, HM Inspectorate of Prisons (HMIP) found one in five inmates had a drug habit they did not have before their jail term began at HMP/YOI Portland.
Andy Dubber, who has worked at the prison for more than 20 years, said: "If you can smell [Spice] you are inhaling it - there is no protection for staff potentially inhaling NPS (new psychoactive substances)."
He claimed drug use inside the jail was also having an affect on the ambulance service, which was called out at least once a day.
Another prison officer at the jail, Tony Walker, said: "One of the protocols is that if you see it [Spice] you're meant to get the prisoner to ventilate the cell for 20 minutes - but if you've got a prisoner that's been taking Spice he's incapable of ventilating his cell."
In a statement the MoJ said: "The health and safety of our prison officers comes first which is why we have strict procedures at HMP Portland to ensure they do not enter rooms where there is a risk of inhaling Spice fumes, unless in an absolute emergency."
Glyn Travis, from the Prison Officers' Association, said the Ministry of Justice was "failing to acknowledge and report" new psychoactive substance incidents from prison staff.
He added: "It's at epidemic levels right across the prisons. These drugs are very, very dangerous and have life-changing effects."